The Kinsley Library Foundation, Inc.
YOU CAN OPEN DOORS BY BECOMING A MEMBER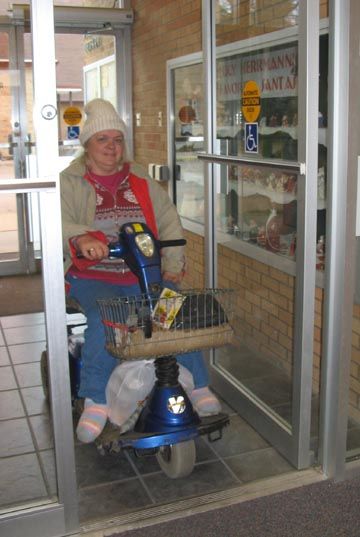 If you would like to create a lasting legacy for yourself or a loved one, we hope you will consider contributing to the Kinsley Library Foundation. The interest income from the endowment provides ongoing support for the library and its programs.
You may become a member of the Kinsley Library Foundation by simply sending your tax deductible contribution to the Kinsley Library Foundation, 208 E. 8th St., Kinsley, KS 67547. For more information, call 620-659-3341 or email: director@kinsleylibrary.info
Automatic doors funded in Dec. 2007
ABOUT THE FOUNDATION
The Kinsley Library Foundation, Inc. was formed on July 16, 1991, primarily with a gift of $25,000 bequeathed to the library by Vivian E. Elsbury, a retired teacher in the Offerle schools. The funds were to be invested with the interest being used to support the library.
The basic purpose of the Corporation is to promote the Kinsley Library and its continued growth and improvement. In pursuit of this purpose the Corporation engages in:
Maintaining the endowment fund for the benefit of the Kinsley Public Library
Encouraging individuals and organizations to make financial contributions to support the Kinsley Library Foundation
Promoting and giving assistance, financial or otherwise to the Kinsley Public Library
Providing funds for or purchasing library materials, furniture, and equipment for the library
The Foundation helped the Kinsley Library enter the age of computers. In July of 1993, the Foundation bought the library's first computer laser printer. In 1996, the Foundation contributed $1055 towards the computer cataloging of the library resources.
In 2006, the Foundation began annually purchasing fifty Tomie's Little Mother Goose nursery rhyme board books to be presented to all the new babies in Edwards County through the Healthy Start program sponsored by the Edwards County Health Department. The back cover of each book contains information promoting the library and its resources and programs.
In the fall of 2007, the Foundation donated $4000 to automate the front doors of the library to better serve the handicapped, elderly, and young patrons.
KINSLEY LIBRARY FOUNDATION, INC. OFFICERS:
Chair: Mary Kallaus Vice Chair: Dennis Kuder Secretary/Treasurer: Mike Padgham